Andi Schmied is a visual artist and architect from Budapest, Hungary. She graduated from the Barlett School of Architecture (UCL) in London and has since exhibited worldwide. Andi's most recent publication is "Private Views: A High-Rise Panorama of Manhattan", which she spoke about during her TEDxVienna talk at this year's UNTOLD conference.
Following Andi's talk, I had the chance to learn more about her personal experience posing as a billionaire in order to attend viewings of the most elite high-rise apartments in Manhattan. She told me what she took away from the experience which resulted in the creation of her book.
What sparked your initial interest in high-rise properties of the elite in New York City? What was your reason for wanting to document them?
Basically, it all started with the biggest cliché. During an artist residency program in New York, in the fall of 2016, I climbed up to the very top of the Empire State Building, and like everyone around me, I was really amazed. I come from Budapest, which is a low-rise city, so it was mesmerizing to be able to observe the city's motion from so high above. Once my gaze from the tiny cars and people below shifted to things at my eye level, I started to notice the buildings rising to a similar height. And as I kept taking pictures of this view, a view which is seen and photographed by thousands every day, I started to have this yearning to see the city from above, but from all different perspectives. For example, there is no direct view over Central Park that most of us can access.
So I started to walk for miles and miles and listed all the buildings I wanted to climb to take pictures, but I very quickly realized that all those supertalls, with their robust presence in the city, are newly-built luxury residential skyscrapers一a secluded and secretive universe, only accessible to the very few who belong there.
And as a Hungarian artist visiting the city for a limited amount of time, I simply had no way of entering those towers. However, as I spent three months in New York, I had time to immerse myself in this obsession. I was left with two options: forget about getting up there, or become someone who would be granted access. So I opted for the second one. Thinking about it further, it seemed that my only choice was to pretend to be a Hungarian apartment-hunting billionaire. With this persona, I could even choose the specific apartment I wanted to enter一at least from the possibilities that were currently for sale or rent on the market. The access was instant.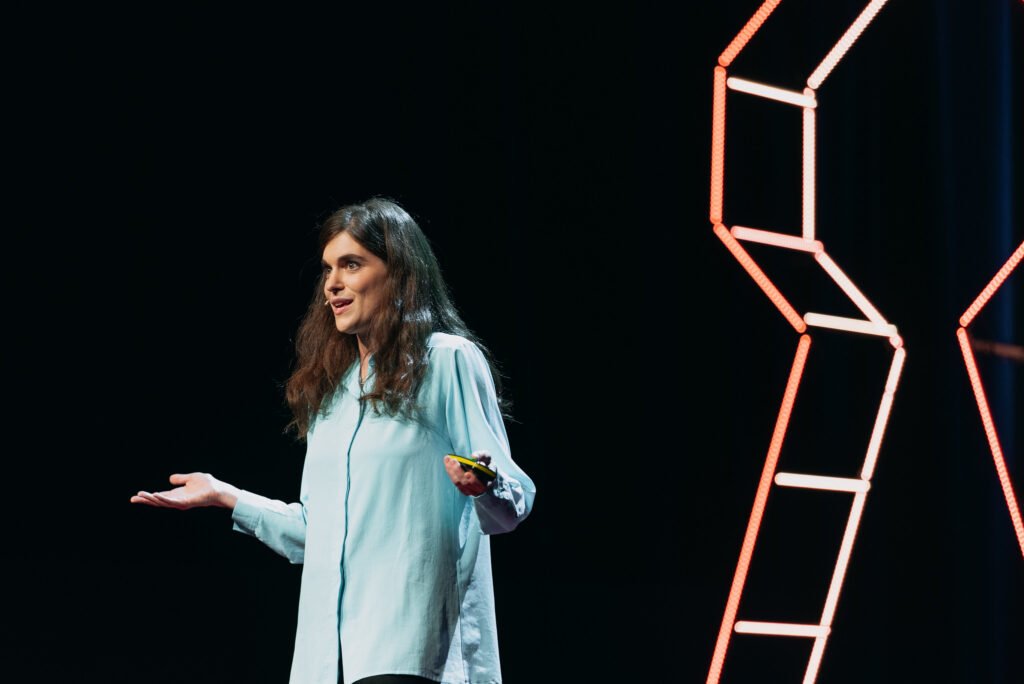 What kind of experience were you expecting when you posed as a billionaire viewing these properties? How did your expectations of the experience differ from reality?
I have no expectations at the start of any project… It really is just some sort of curiosity that drives me. So I was really just going to capture the views initially.
But what I ended up finding was a much more obscure reality that kept me going; the entire world of ultra-luxury real estate is fascinating. I loved discovering this completely hidden and obscure universe, which people don't even know exists. It is a place full of tax avoidance, name-dropping, millions of dollars, the ecological workings of architecture, huge designer names, etc.
In case your disguise would be discovered, did you have some sort of backup plan?
Not really, to be honest. What I did think through though, is what would be the absolute worst-case scenario if during a viewing they would realize I am not an actual billionaire. And I figured that nothing worse can happen to me, than being sent away and told that I can not use my photographs. So it didn't seem like too high of a risk.
But once you are accepted as someone who has access, they don't really doubt anymore. For example, some agents noticed that the camera which I was supposedly using to document the apartment for my husband was a film camera. But by simply saying that I got the camera from my grandfather, who had urged me to document all my special moments in life, I more than got away with it. It made Gabriella an "artsy billionaire" with whom they suddenly started to speak about MoMA's new collection. So, in reality, the only thing that might have happened is that they found me strange. But hey! There are a lot of strange rich people, so that is not a big deal.
As an architect yourself, what was your initial impression of the apartments? Did anything stand out to you as particularly unique besides the views, the address, and the amenities?
The address and the view are the main selling points. The thing is that these apartments are rarely lived in; they estimate that about 60-70% of the already sold properties lay empty because people buy them as a mere investment. So everything around them, amenities, interior, fancy architects' names are only there to assure the buyer that the real estate will keep its value. Amenities are already just simply part of the weird race between the developers to seduce the buyers of this competitive market.
And in the apartments themselves, the layout and the proportions of spaces are almost identical throughout the buildings. In all of these apartments, the best view is from the living room, and the second-best is from the master bedroom. High ceilings, glass facades, huge walk-in closets, very specific kitchen layouts with a breakfast bar in the middle, and large white walls to hang up out scaled art are everywhere.
Sure, you might have a few inches difference in ceiling height or a different tone of oak flooring in the living room, and in some places, you have the Grigio Orobico book-matched marble as a backsplash for your freestanding soaking tub, while in others Calacatta Tucci—but does it matter?
In 56 Leonard—a building by Herzog & de Meuron—, the interior was also designed by the Swiss architect duo, and it was probably the only building where the interior felt a bit different with bare concrete columns in the middle of the luxury space. Of course, ultimately it is still the same thing, but it was packaged a bit differently.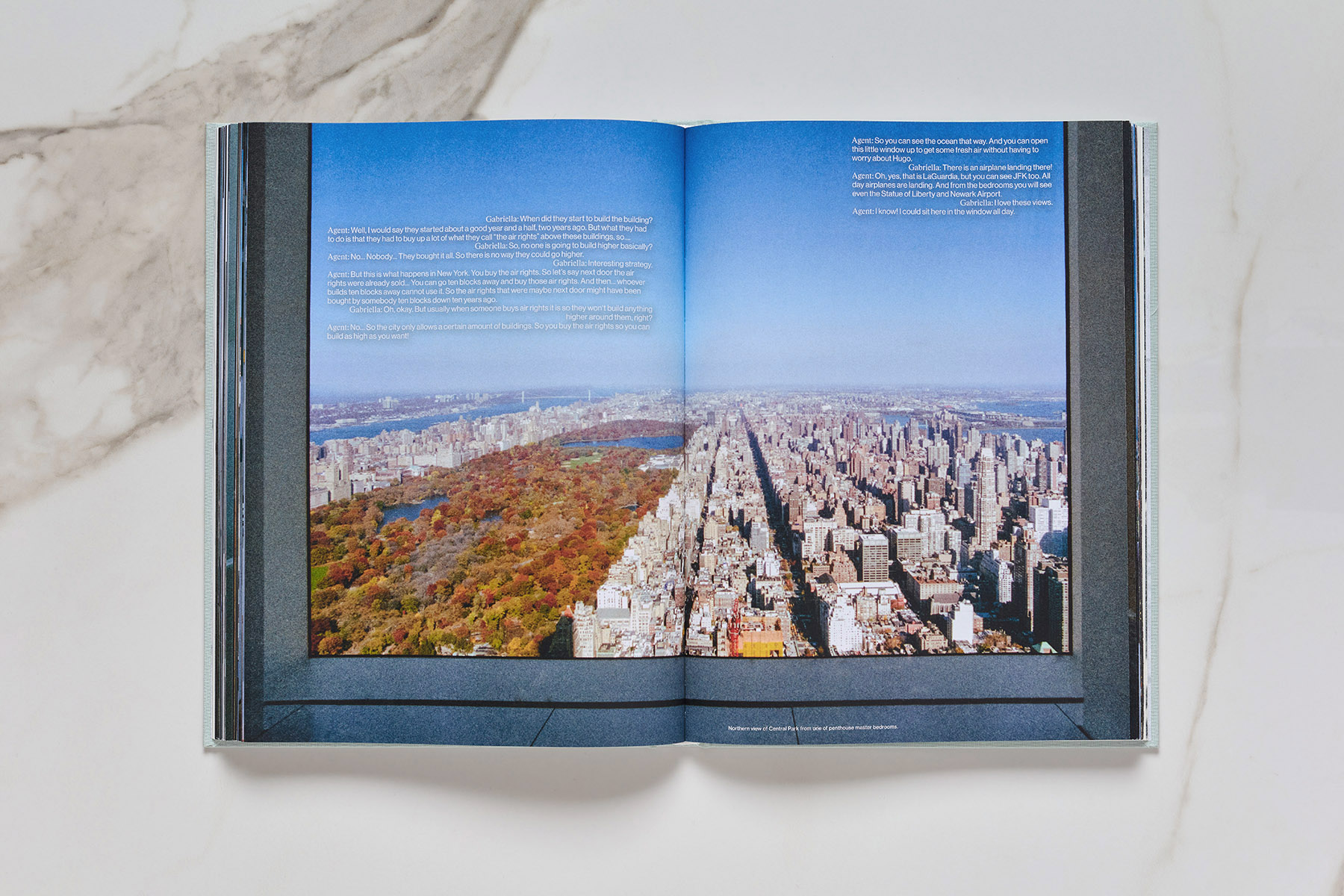 What are you taking away from your experience touring the apartments? Would you like to live in one? Are they worth the price? What kind of people do you imagine buy these types of property?
I certainly would not want to live in these places. For one thing, they have horrible effects on our cities and their direct surroundings. From simple things like casting huge shadows over up-until-then sunny areas, or raising square-footage prices to an extent that people must leave their neighborhoods, these buildings in my opinion also represent something very unhealthy for society. Currently, these are the tallest buildings that you can see from every corner of the city. These are the buildings that are breaking engineering records. To some extent, they are the symbols of our times, and the only thing they represent is private surplus wealth.
And what I know about the actual buyers is mainly based on research. First I was sure there must be a lot of Russian/Chinese/Middle-Eastern oligarchy… and while there sure is, most of the buyers are Americans, at least this is what agents told me.
People with a net worth of over 30million USDs are called "Ultra-high-net-worth individuals", and an average "ultra-high-net-worth individual" owns 5 properties, so logically they don't live in 4 of those. So, my only knowledge of the buyers, is that the vast majority of them are buying these homes as second-third-fourth-fifth (etc.) homes, and the major purpose of the purchase is just to keep their money safe, not to actually live there.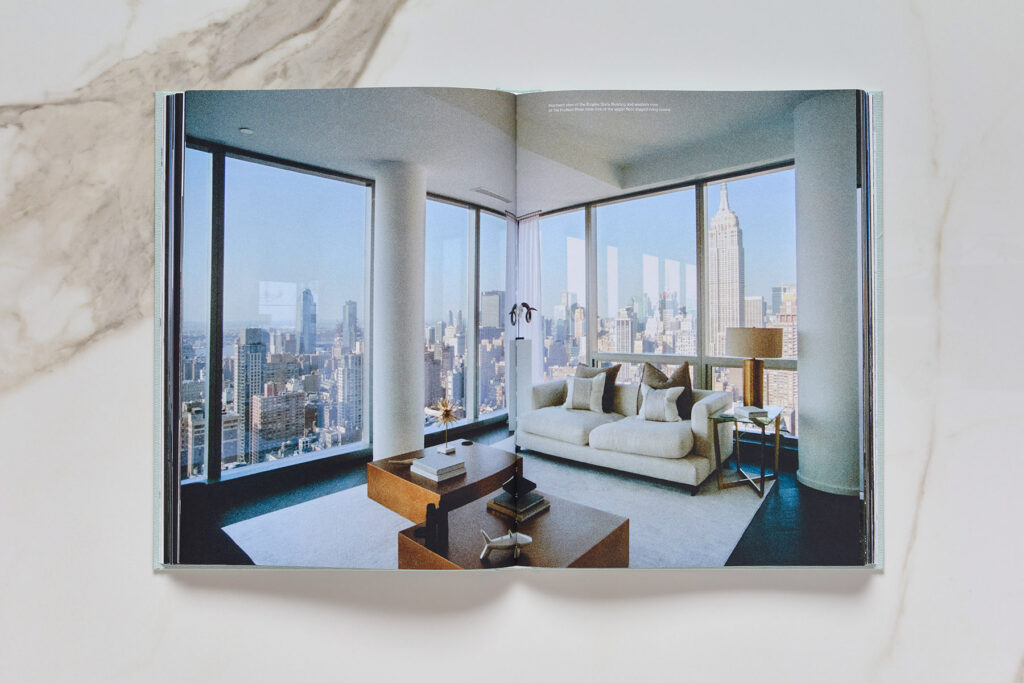 What is your next goal? What do you have planned, or what are you working on now?
Good question! I never really plan, and my projects come along as I go… My artistic process is usually quite intuitive; first I do things, then I think about what I did and why it is relevant. Then once I am more rationally approaching my subject, I go back and continue. And the end result is usually a book. This was the way both my previous book Jing Jin City, and my current book Private Views: A High-Rise Panorama of Manhattan came along… So only time will tell.
To keep up with Andi's next projects, and to have a closer look at her previous ones, visit her website here.