We had yet another great TEDxVienna event this year and couldn't be more grateful for all the volunteers and attendees for making the event happen. This year's conference was a little more complicated than others, as we had to maneuver our way around covid restrictions which were changing up until the last moment of the event.
That being said, it turned out to be one of our best conferences yet. This year's event was filled with inspiring talks, untold stories, meaningful conversations, interesting interactives, great food, and a fantastic after-party at the Selleny's Bar Hilton Vienna Park.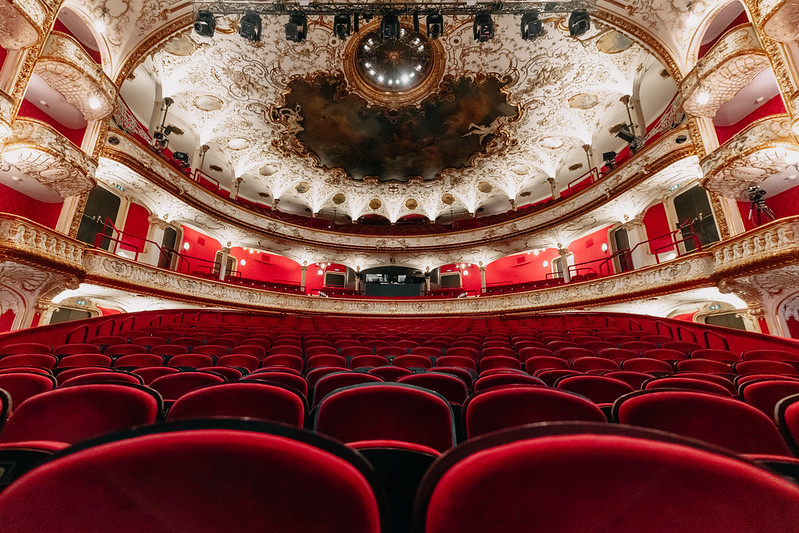 The conference was split into two half-day chapters, each packed with UNTOLD stories and ideas from the worlds of Science, Technology, Ethics, Design, and Human Connection. Here's a little recap of what happened in each chapter, in case you missed it.
The Morning Chapter
Session 1 – Tell a Tale
After registration and breakfast, the morning chapter began with an exciting upbeat Brazilian Samba performance from Gato De Salto.
Then, Sally MacNamara opened with a talk about what she has learned reading over 10,000 diaries. She read excerpts of diaries to the audience sharing people's UNTOLD and fascinating stories.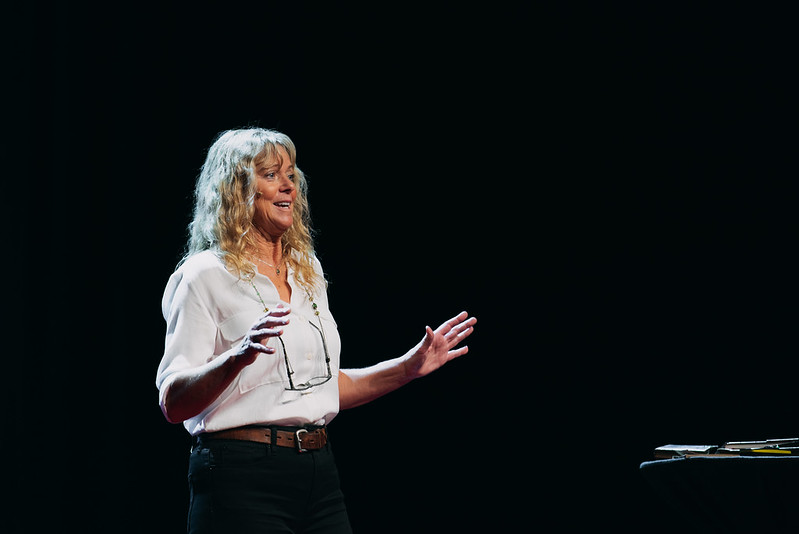 Sally's talk left us with the urge to document our own lives, and to start keeping a diary, never knowing who might read it and take something away from it one day.
Following Sally was Mike Merrill, a publicly-traded, privately-held person. You read that correctly, Mike Merril is a publicly-traded person and has been for the past thirteen years.
He talked about his journey as a publicly-traded person and how his shareholders have ultimately become his 'decision makers', deciding on not just small insignificant events but big ones such as getting engaged.
Mike shared how these decisions have affected him, and how he maneuvered through life as his stocks went up, and down, and how this gave him an overall warped sense of "value" which he has a different approach to today.
Session 1 talks then came to a pause for a riveting aerial acrobatic performance by Rhizomatic Circus.
Next up was Basse Stittgen, an industrial designer with UNTOLD ideas about design and how blood, yes blood, can be used to create physical matter.
In Basse's talk, we learned more about the slaughterhouse industry and how, although it's one of the most resource-intensive in the world, it remains invisible, creating a disconnect between the conversation around ethics of production and consumption.
Basse himself has developed physical matter out of blood, for example, a keyboard out of cows blood, which was on display for attendees during his interactive. Overall, Basse's talk gave us the opportunity to re-think and confront our relation to animals.
Session 1 of the morning chapter ended with an emotional and impactful talk from Ron Haviv, an Emmy nominated & award-winning photojournalist, filmmaker & co-founder of the photo agency VII.
Ron is dedicated to documenting conflict and raising human rights issues around the globe and during his talk, we were lucky enough to experience some of his powerful images first hand and to hear the UNTOLD and impactful stories behind them.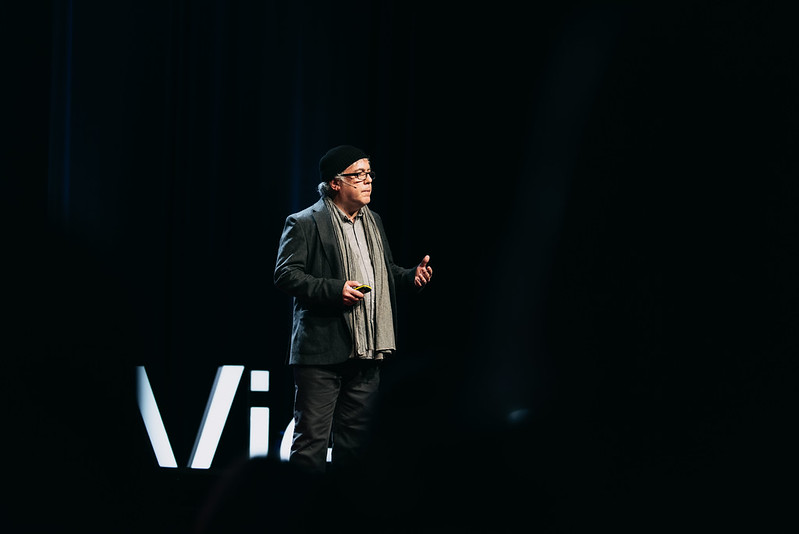 Through Ron's talk, we got to hear how his photos documenting war crimes were a risk to his own life, resulting in him receiving death threats. Haviv mentioned that the highest and lowest point in his career was his photos documenting Serbian paramilitaries (known as Arkan's Tigers) fighting against Muslims during the first battle in the Bosnian war in Bijeljina, Bosnia.
"It was the highest point because the photos reached a large audience, and the lowest point because even though the photos were seen and those miseries were witnessed, nothing was done to stop the genocide in that part of the world."

Ron Haviv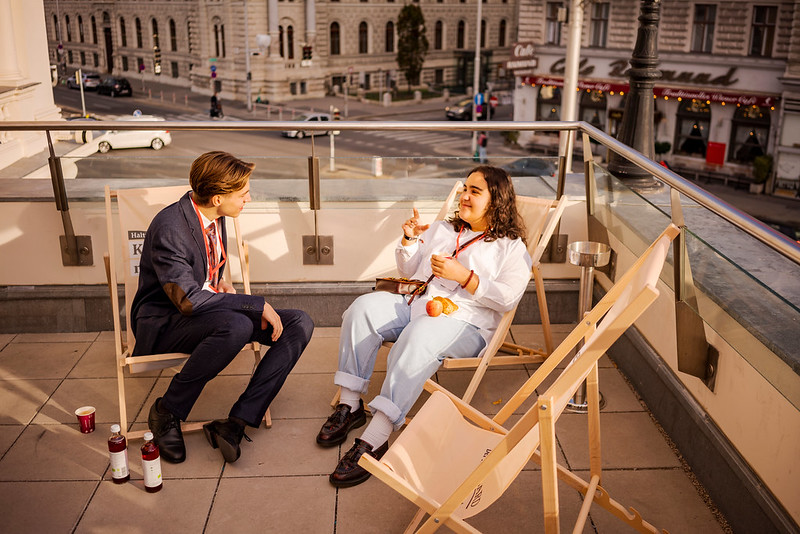 After session 1, attendees had a one-hour energy break where they could grab food, drinks, and of course, experience interactives.
This year's conference offered a variety of different interactive experiences, including mind-blowing technology, unique designs, inspiring and UNTOLD articles to read and contribute to, and more.
Session 2 – Time Will Tell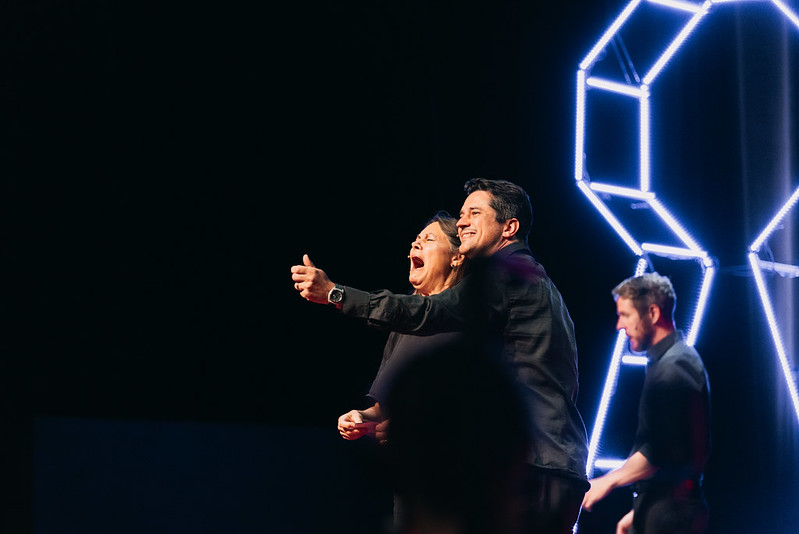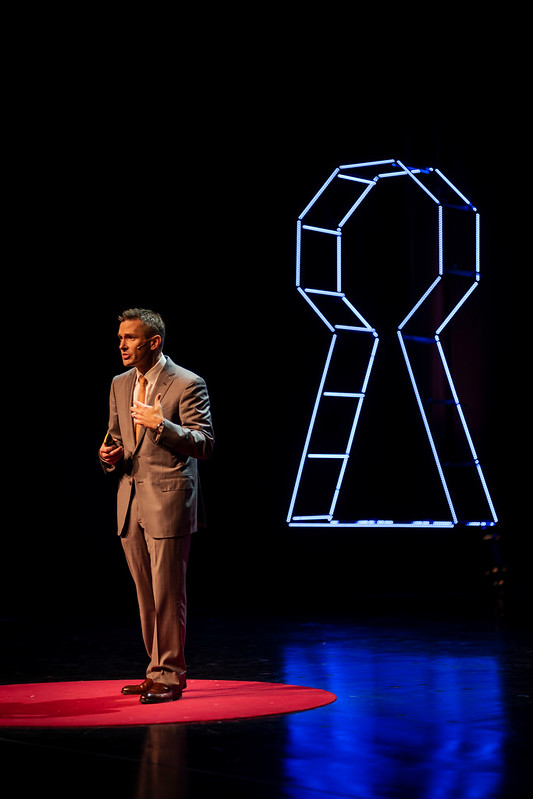 Session 2 started with a performance from the English Lovers, an improvisational theatre company that started in 1997.
Their performance included ideas, words, and phrases from the day's talks and left the audience laughing hysterically before the next set of talks began.
The first speaker of session 2 was Nicholas Leeper, a Professor of Surgery and the Chief of Vascular Medicine at Stanford University.
Dr. Leeper spoke about two of the world's leading killers: cancer and heart disease, and how they have a lot in common.
He suggests that if we think about these two diseases this way, "we might be able to develop new therapies that can treat both diseases at the same time."
Next up was David Howard, a speech scientist and electronic engineer currently working on human voice production and perception.
In his talk, we learned how he and his team created a vocal sound from the 3,000-year-old Egyptian mummy Nesyamun in early 2020 by using his Vocal Tract Organ.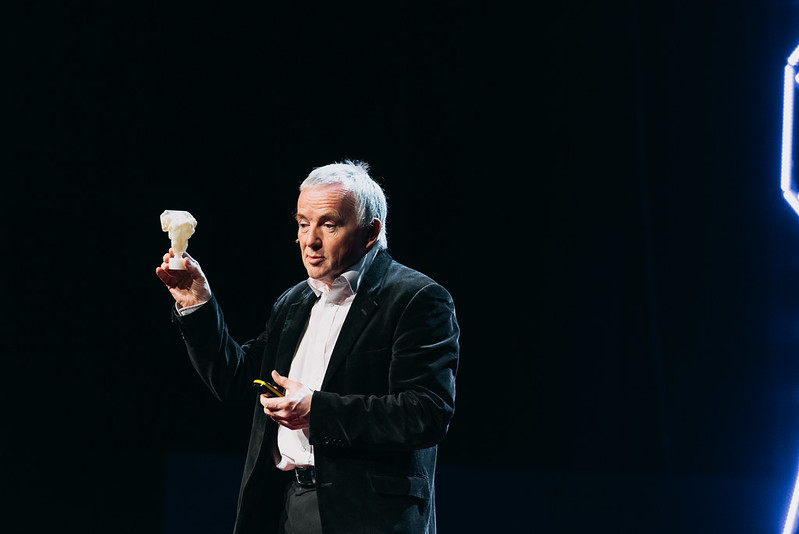 We even had the chance to hear that vocal sound out loud. Cool right? David's talk left us with fascinating ideas about the future of speech and whether or not humans will be able to reproduce speech and conversations in the future.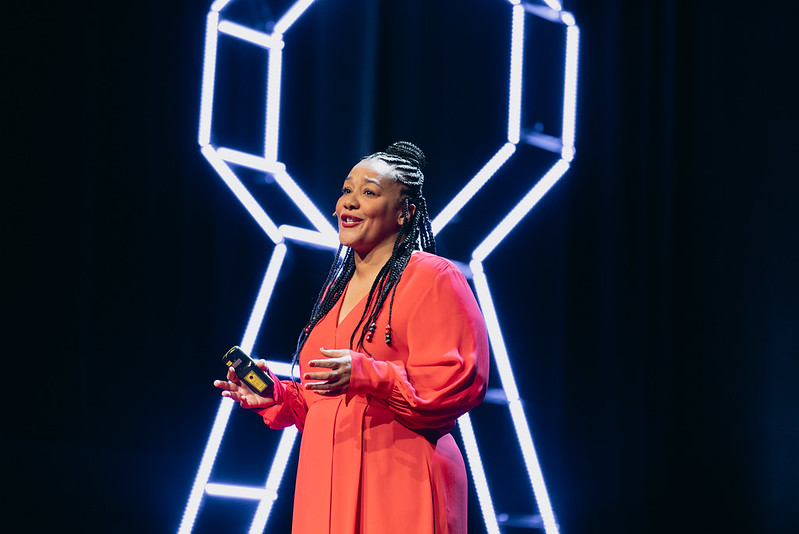 The next speaker was Naomi Jacobs, author, and teacher of Psychology and Mental Health and Well-being.
She spoke about a personal experience in which she woke up one morning only to have lost 17 years of her memory, which she later found out was due to childhood traumas.
She took us through this experience and talked about how it impacted the rest of her life. Her inspirational story was one that moved many of our audience members to tears.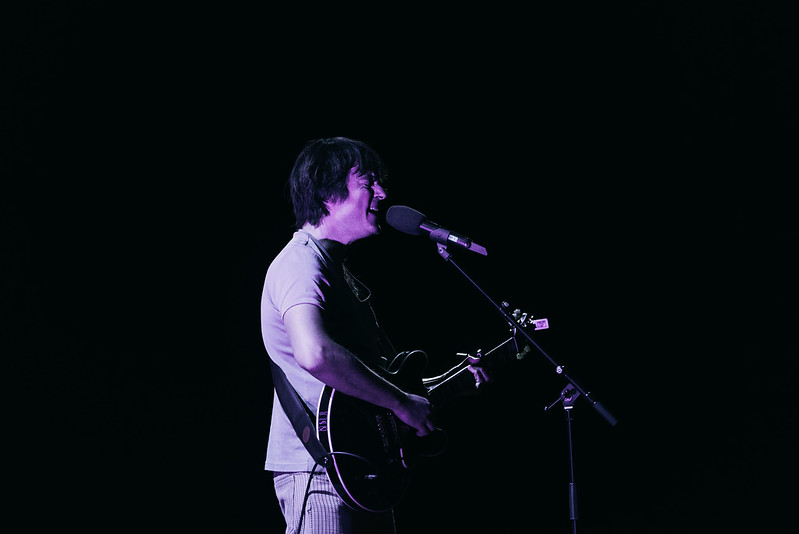 Following Naomi's talk was yet another moving experience with Daniel Lumbreras' performance. Daniel's performance was especially unique, as he sings in no specific language but rather by improvising phonemes as he goes.
Despite his singing not being in a familiar language, his performance was fully understood and felt by our audience members.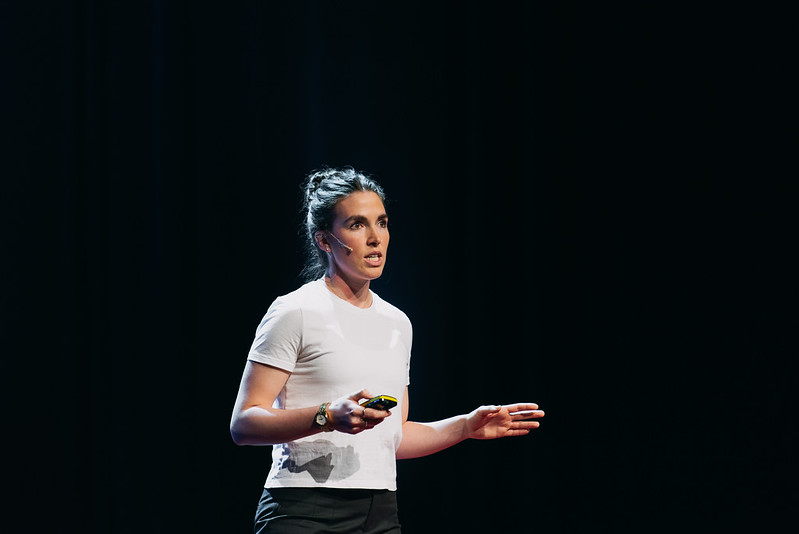 After the performance, session two continued with two more talks. First, Irati Alonso Calafell, a quantum computing researcher, granted us a compelling talk about how quantum computer science can change our lives for the better.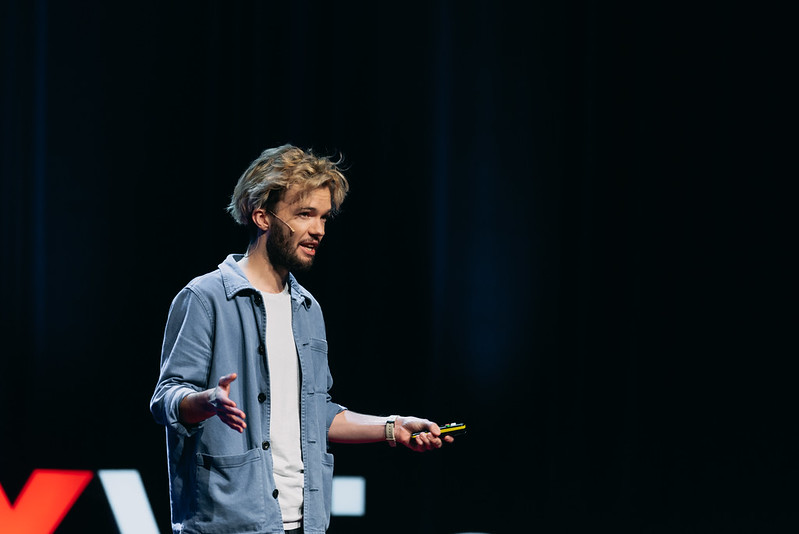 The morning chapter then came to an end with Josh, a.k.a "The ordinary things guy", an anonymous satirist, writer, and documentarian, well known for his YouTube channel which consists of videos about surprising and sinister stories behind everyday things.
In his talk, we got a glimpse into his channel and his UNTOLD ideas for how we can save the internet.
The Afternoon Chapter
Session 3 – To Tell or not to Tell
The afternoon chapter began with the Brazilian Samba Performance Group once again before our next speaker was introduced.
The first speaker for the afternoon chapter was Stacey Steinberg, the supervising attorney for the Gator TeamChild Juvenile Law Clinic as well as Director for the Center on Children and Families. She talked about the intersection between a parent's right to share online and a child's interest in privacy.
She left audience members a lot to think about when it comes to 'sharenting' and how it's important to consider a child's privacy rights before sharing something into the universe so quickly.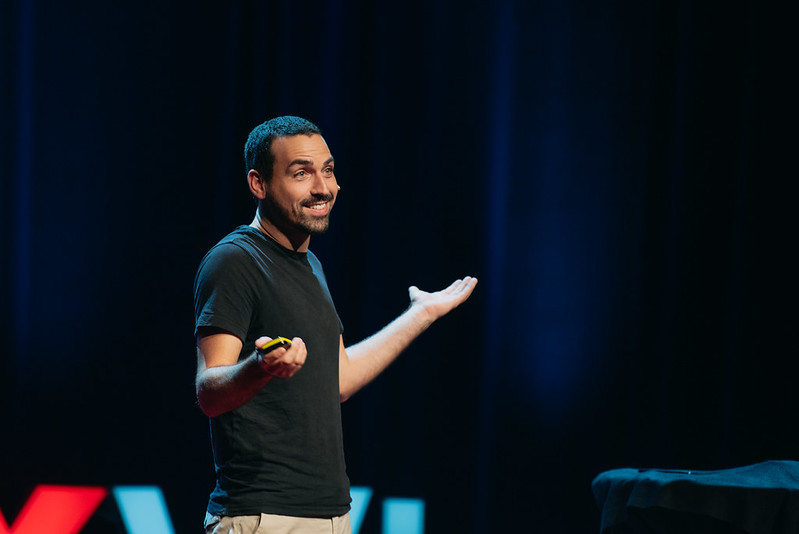 The next talk by Marc Teyssier had the audience in a lot of laughter as the designer, researcher, and associate professor at the De Vinci Research Center talked about and showed us uncanny devices to rethink our relationship with technology.
During his talk, Marc showed us phone cases that were made to look and feel like human skin, as well as a webcam designed to look like an actual human eye. Marc had us rethinking the boundaries with design and our relationship with technology.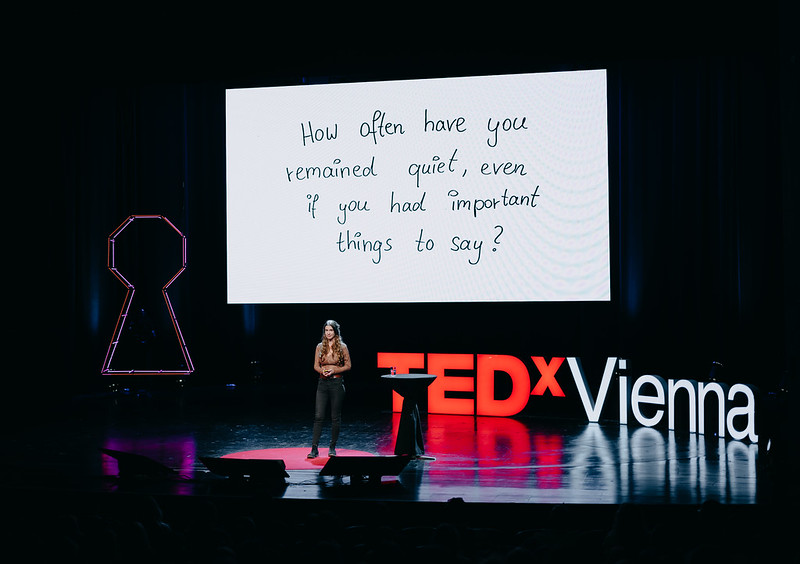 Next up was Nora Punzel, a poet and advocate for chronically ill/disabled people. Nora suffers from a rare disease known as Eagle Syndrome causing her long-term voice loss.
She talked about what it was like to lose her voice and to feel like she had to suffer in silence when she had so much she wanted to say. Her talk reminded audience members of the privilege to be able to voice our opinions and the importance of sharing our stories with others.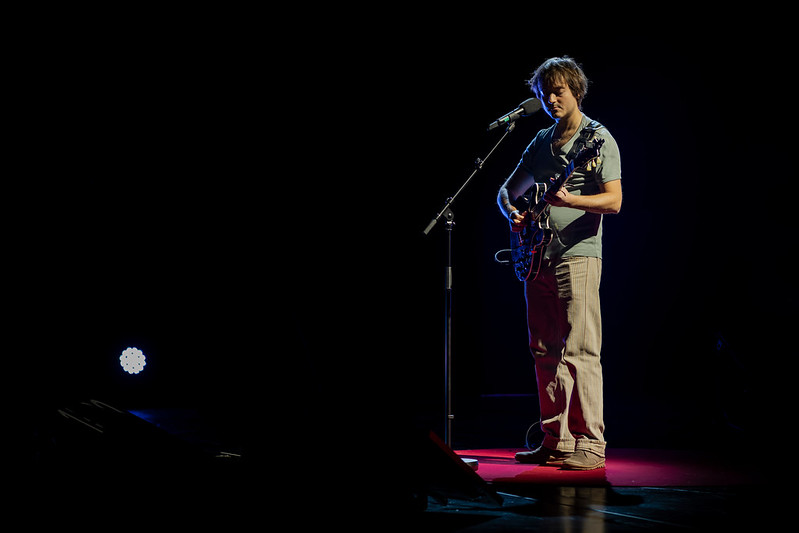 We had the pleasure to hear another performance from Daniel Lumbreras. For his last song, the audience joined him singing the final chords, which was one of the most magical moments of the entire event.
After Daniel, our next speaker Mathieu Morlighem took the stage where he detailed the secret landscape buried under the ice sheets.
Dr. Morlighem is an associate professor whose research is focused on predicting how much Greenland and Antarctica will contribute to sea level over the next centuries.
The last speaker of session 3 was Adrian Raine, a psychologist, and professor. He spoke about brain impairments that alter a person's sense of morality and ultimately cause them to act out in violent ways.
He left us with a lot of questions about the justice system, and where the line should be drawn with punishment when it comes to criminals whose brain scans prove they have predisposed impairments, which may have caused them to commit their crimes.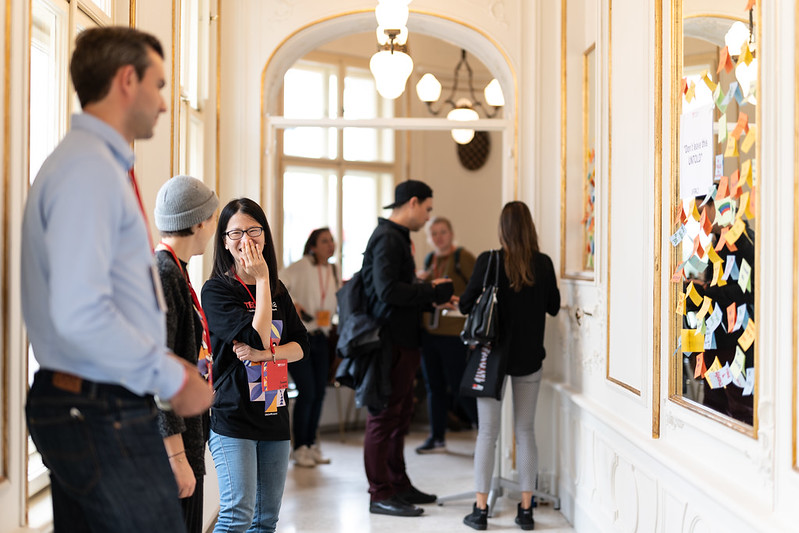 Session 3 then came to an end and our attendees were treated to an energy and interactive experience break where they had the chance to eat, drink, network, and take part in all kinds of cool interactives.
Session 4 – Truth Be Told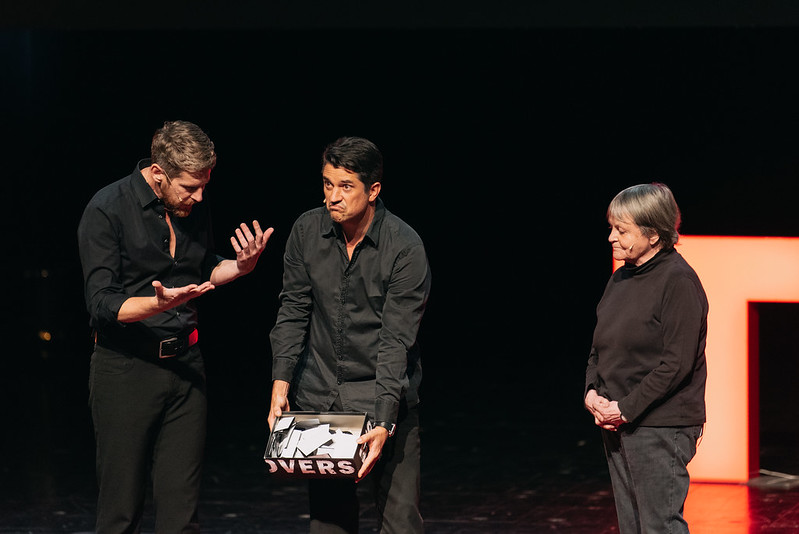 Our last session of the day began with another hilarious performance by the English Lovers before getting more serious with an important talk from Layla Saad. Saad, a black author, and antiracism educator spoke of the importance of black representation in reading.
She talked about her personal experience with books and how it wasn't until she was 15 that she had read a book by a black author.
Layla's talk left our audience with the realization that we must actively celebrate the writings and voices of those who have for so long been marginalized.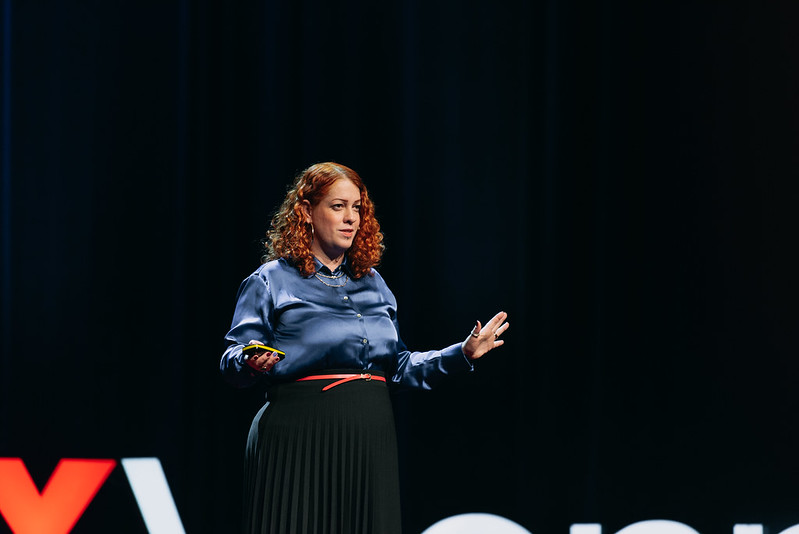 Our next speaker was Jasmin Hagendorfer, a Vienna-based artist, curator, and producer who brought a taboo topic to the forefront: porn, and how good porn can save the world. Jasmin talked about what it means to support porn and the importance of clean, safe, and ethically produced porn.
After Jasmin's talk came a performance that was also centered around a somewhat taboo topic, nudity. The Rhizomatic circus collective performed a captivating contemporary nude production for audience members.
Next, visual artist and architect Andi Schmied took us through some of the most exclusive high rises of New York City.
Andi talked about the experience she had posing as a Hungarian billionaire's wife in order to have private viewings of apartments catering to the top 1% of the population.
Through her experience, we also got to see some incredible private views of Manhattan. But most importantly, Andi took us on her personal journey and how she was treated differently just because she was a woman.
Last but definitely not least was Christie Watson, a writer, and professor of Medical and Health Humanities. As a former nurse, Watson has also experienced moments of love and sadness.
She talked about her encounters and also how all these experiences as a nurse have made her "sick and tired of compassion".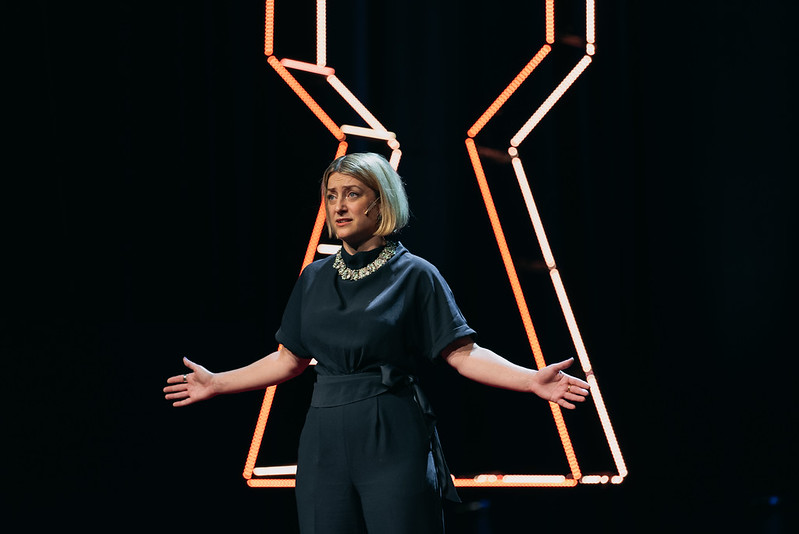 The conference then came to an end, with all sixty-plus volunteer members joining Vlad Gozmanand Alina Nikolaou, our curation team, on stage for a final applause from attendees.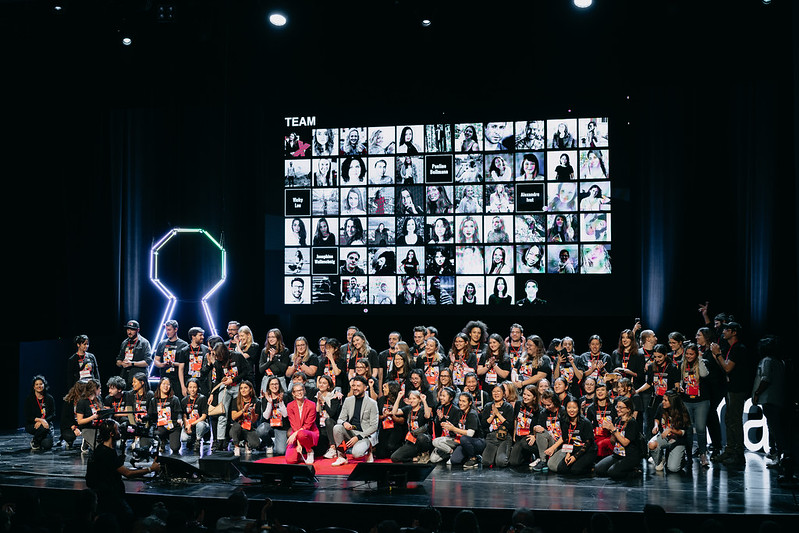 After the conference, all attendees, volunteers, and speakers had the opportunity to attend the after-party at the Hilton Hotel. There, we all had the chance to network, meet new people, talk with some of our favorite speakers, and of course, celebrate together after experiencing an incredible day.
The TEDxVienna UNTOLD conference was a special and memorable experience for all of us. We already can't wait for next year's conference and we hope to see all of you there!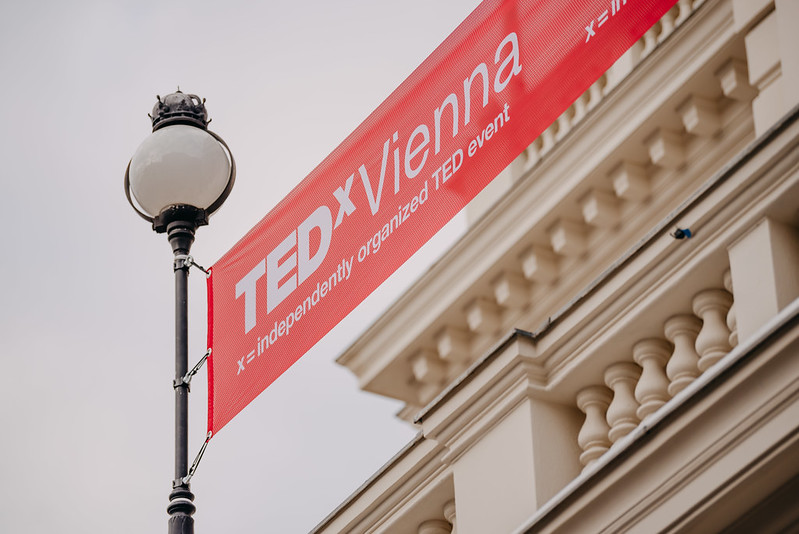 In the meantime, stay tuned for speaker interviews to be published here in the Online Magazine, along with videos footage of each and every talk.
Written by Sarah Guvi and Juxhina Malaj