On October 8th we held our 12th TEDxVienna conference, On the Rise, an event about matters of increasing importance to all of us. The day was filled with sixteen inspiring ideas, great food, stimulating interactives, and plenty of networking with like-minded individuals. In case you missed it, or you just want to relive the magic, here is a recap of how the day went.

On The Rise began with a performance from the Vienna Schmusechor, a choir whose name literally translates to "cuddle choir" in English. With their colorfully extravagant outfits and positive energy, they set the perfect tone to start our day. After opening with an Italian classic, they took us down memory lane with a popular 90's tune, Backstreet Boy's "I want it that way". The performance had the audience singing and clapping together to their creative rendition of the popular melody.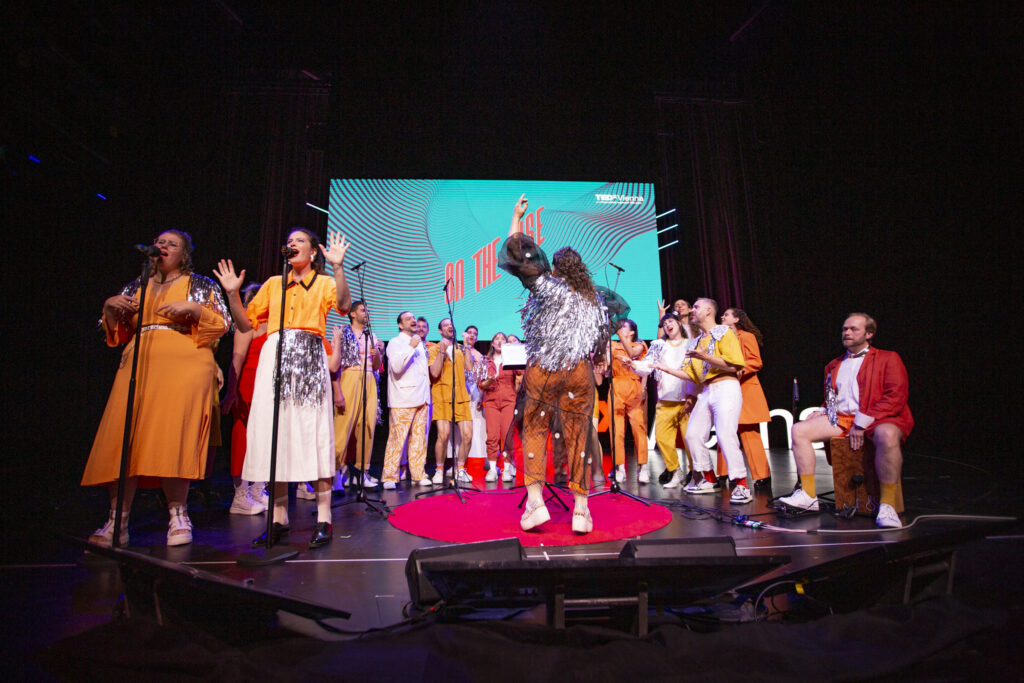 Session 1: Rise and Shine
The first talk of the day was a moving one on forgiveness, resilience, and overcoming hardship by Kim Phuc Phan Thi. Known as the "Napalm girl", Kim delivered a compelling talk about her struggles following the viral photo which spread across the nation during the 1972 Vietnam war. The photo depicted a then 12-year-old Kim running down the street covered in chemical burns. It took time for Kim to come to terms with the image and the attention that came with it, but she not only learned to embrace it, she used it for good.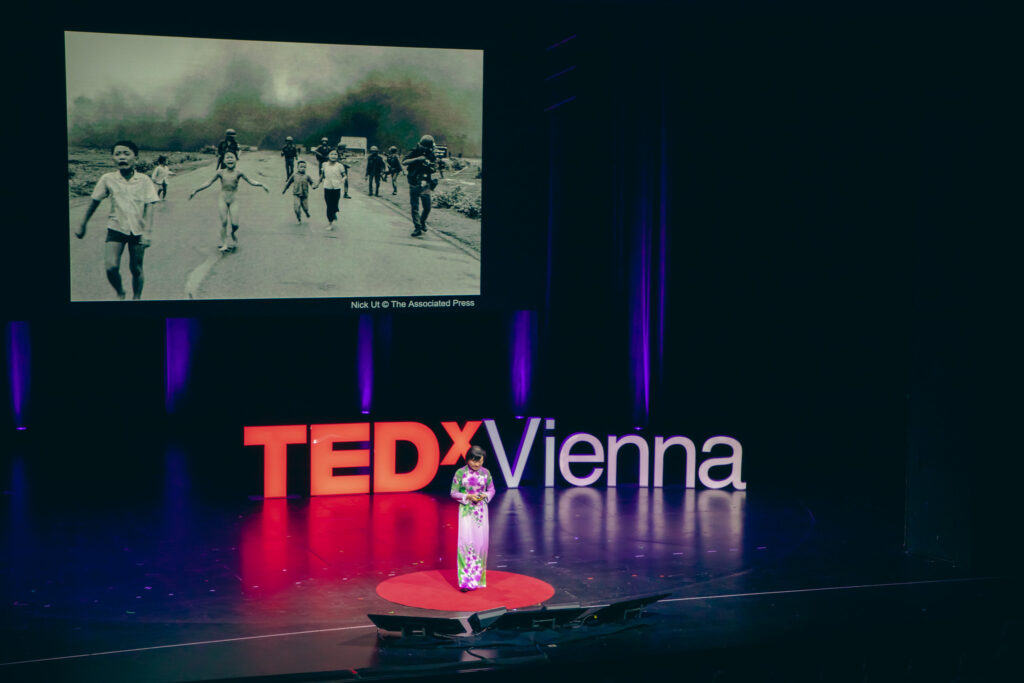 After Kim, was Anna Maria Coclite, known for her research in thin film growth, including thin film technologies, nanomaterials, and surface chemistry. Anna Maria detailed the process of developing artificial skin, an idea that wowed our audience. Anna Maria even brought a sample of her work, which was on display during the interactive breaks.
Next was Joe Milnes, who spoke about the need to rise up to the challenge of developing nuclear fusion. Joe's fusion research was certainly a topic that is on the rise, and one that blew our minds.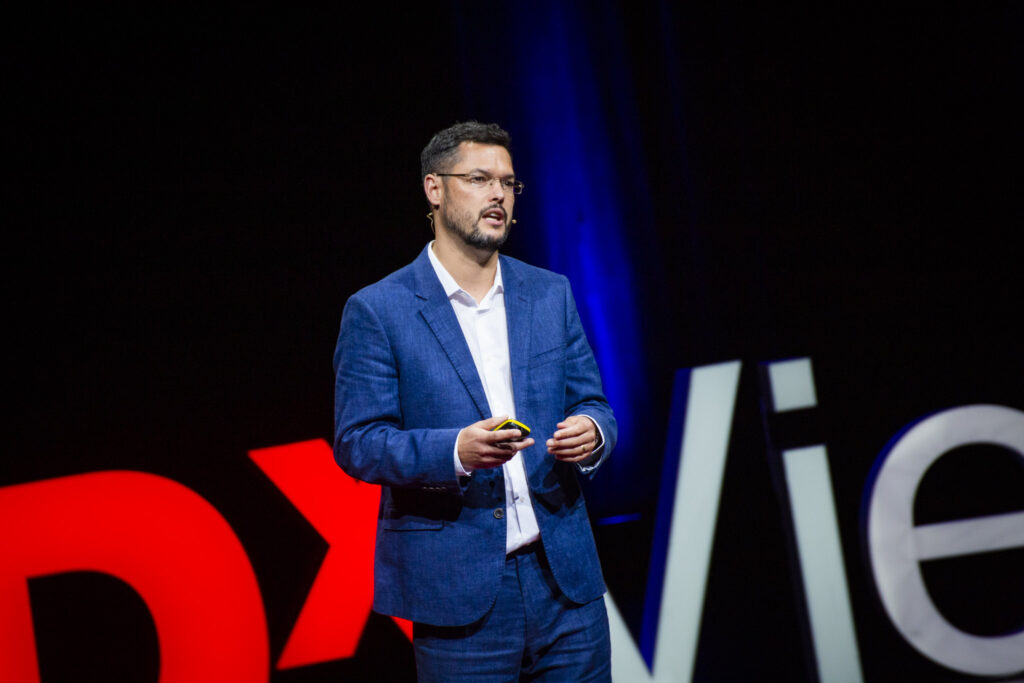 Following Joe was Bill Keagy. Known as the "list collector," Bill taught us that the lists people leave behind can teach us how to appreciate every day, and how noticing normal everyday things helped him in creative mindfulness practice.
After an exhilarating first session, it was time for attendees to enjoy a much-needed energy break, with finger food, interactive experiences, and opportunities to network and socialize.
Interactive experiences offered at this year's event made sure there was never a dull moment in between sessions. During these breaks, attendees had the opportunity to compete in a game of Mario Kart, hosted by You are Epic, in partnership with Impactory. This wasn't your ordinary game of Mario Kart, as every game played collected money that went toward Wilderness International to save the rainforest.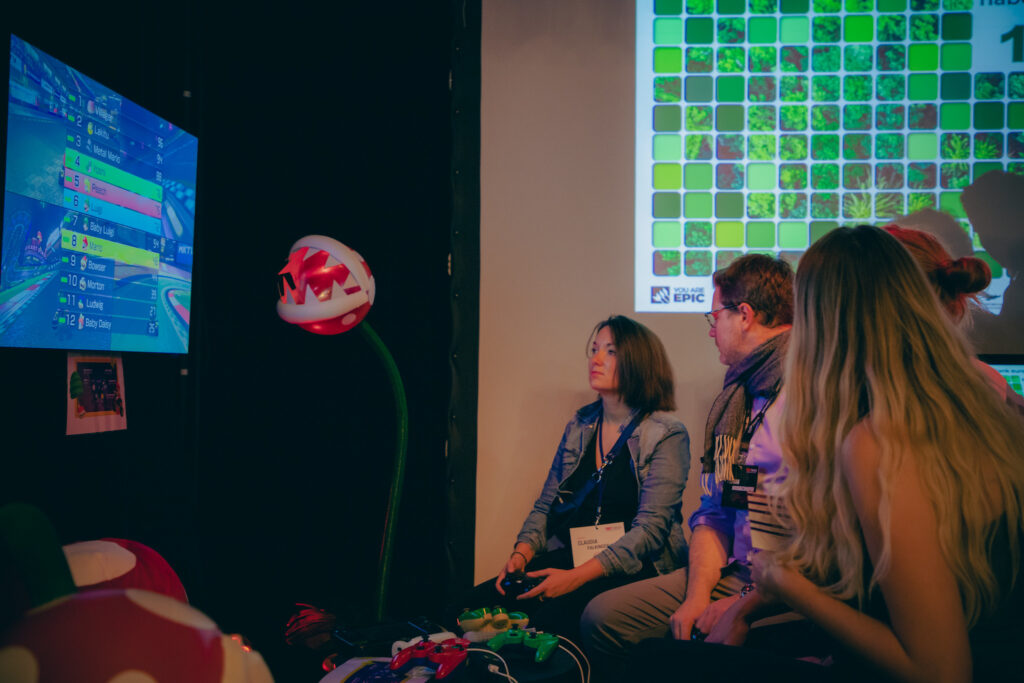 In addition to that, Artvive provided Augmented Reality (AR) Art, each with its own thought-provoking message. If you were up for a little adventure, CityRiddler was on sight and ready to take attendees through a riddle tour inside the Volkstheater for the chance to win a prize.

Colorful offered a fun photo booth with 2D and 3D, while Revo foods showed attendees their rendition of a vegan smoked salmon, entirely made using innovative 3D food-printing technology. Talk about futuristic elements being on the rise!
Session 2: Rise Against
After attendees charged their batteries, they were ready for four more on the rise ideas in Session two: Rise Against.
Starting with Marlene Engelhorn, an Austrian native who advocates for tax justice. Marlene, who is entitled to a large inheritance in the millions, spoke about addressing taxation on the wealthy and how it's the most democratic move we can make.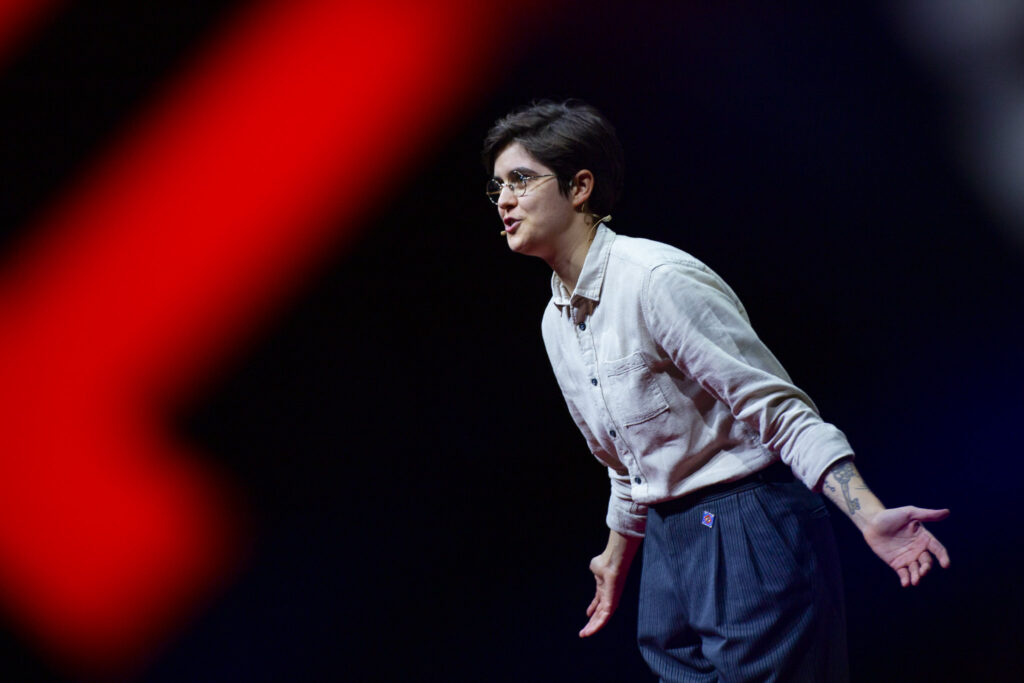 Following Marlene, Peter Mcindoe and Connor Gaydos took the stage and talked all about comedy and how it can help us cope. Peter and Connor founded the Birds aren't real movement, which is a satirical conspiracy theory stating that birds don't exist and are actually drone replicas installed by the U.S government to spy on Americans.
Seems crazy, right? Well, as crazy as it may sound, Peter and Connor actually gained a following of millions worldwide, making us realize just how easily misinformation can be spread.
Before the next two talks proceeded, the audience was charmed by a fantastic vocal performance by CHRISTL.
Next, we had Valeria Gontareva, a Ukrainian who served as the Governor of the National Bank of Ukraine between 2014-2017. Valeria was the first woman to lead Ukraine's central bank, and her talk highlighted her expertise in economics, monetary policy, inflation, and financial institutions.
Last, for Session 2, our audience enjoyed some humor with a talk delivered by Bob Wiltfong. Bob talked all about BS (business speak), and how to take the "BS" out of business speak. His talk had our audience laughing hysterically, leaving them energized and ready for a lunch break.
During the lunch break, about 60 pre-registered audience members were given the opportunity to participate in an intimate panel discussion on leadership hosted by Tech Unicorn company Dynatrace.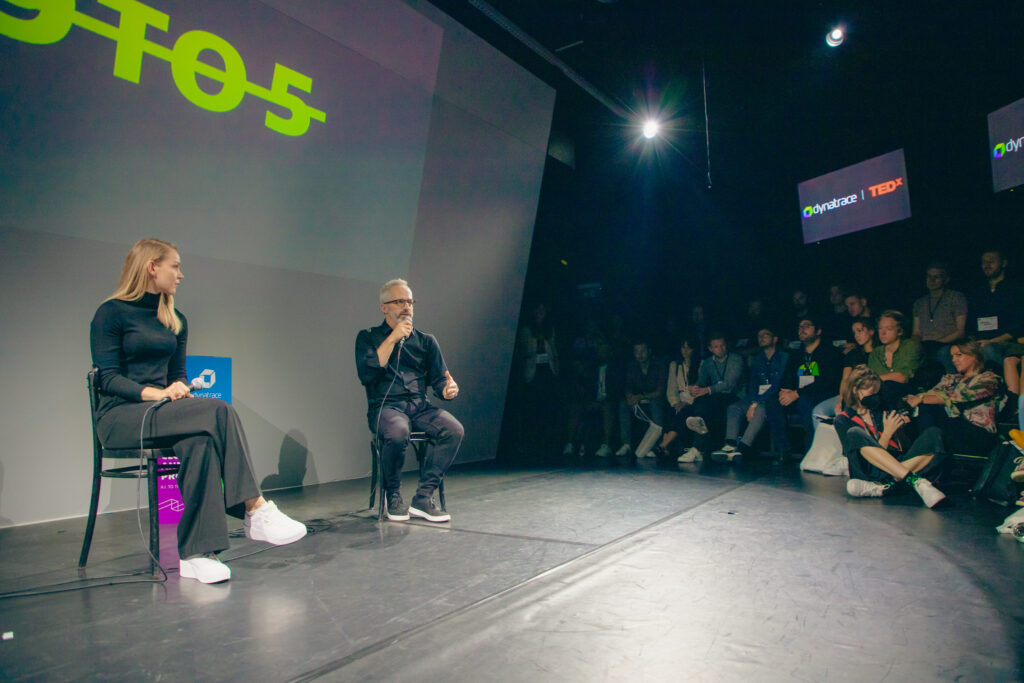 The panel took place in a top-secret location inside the Volkstheater, where attendees took part in a conversation on how to be an everyday leader. Moderated by our magazine team lead Sarah Guvi with panelists Vincent Stüger, VP of Engineering and Organizational Scaling, and Eva-Maria Meyr, Director of R&D Employer Branding and Communication at Dynatrace.
The discussion gave audience members the opportunity to ask questions, seek advice, or even share personal stories with panelists, as they shared their own expertise on leadership practice at Dynatrace.
Session 3: Rise to the Occasion
As the Lunch break came to an end, it was time to begin the second half of our day. Session three: Rise to the Occasion began with Jann Choy who shared insight on how to use speculative design to question our new realities. Cool, right? Then we had Dr. Stephen Wallace, an Associate Professor of Biotechnology. Stephen elaborated on how synthetic biology can help us build a more sustainable future.

Before Paul Morland took to the stage, attendees enjoyed a vocal performance by the talented Dylan Goff. Then, as an expert in demographics, Paul provided insight into the topic of demography by using ten different graphs, informing us a lot about the future of civilization. The last of the session was Viennese local Candy Licious. Drag artist Candy Licious is an activist who made quite the entrance on the Volkstheater stage by physically breaking down a wall with a stiletto. Candy Licious' talk emphasized the importance of building bridges, not walls. Candy Licious spoke about a personal story where conservatives in Austria built a wall, attempting to physically block her from reading to children during pride.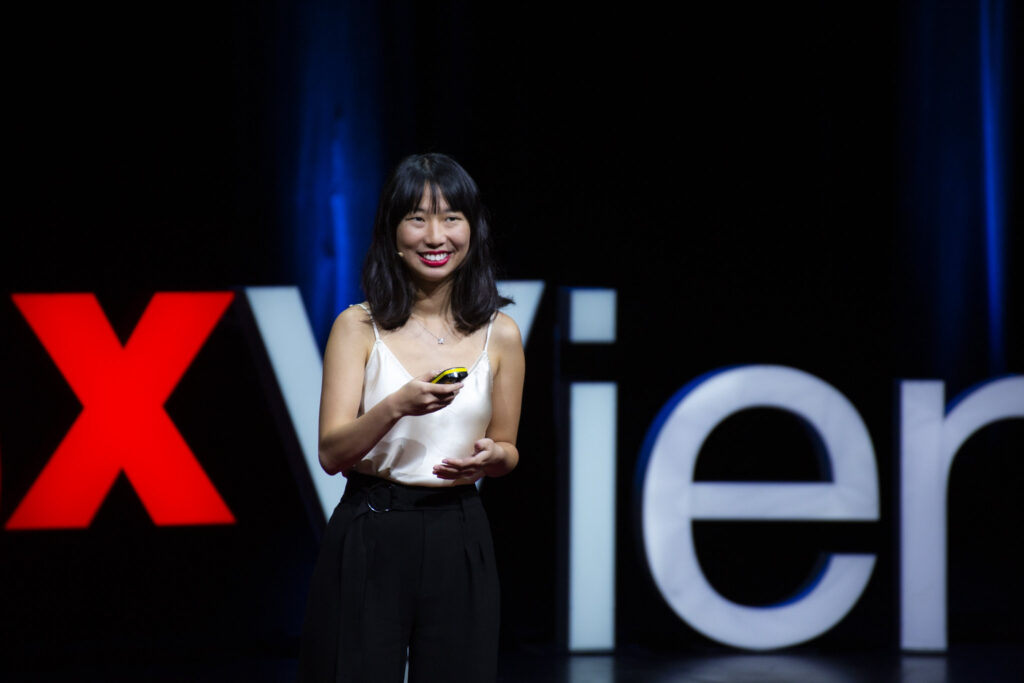 Session 4: Rise Above
Before the last session of the day commenced, attendees experienced another interactive energy break. After indulging in some Schlumberger champagne and Ottakringer beer, attendees were ready for the final session: Rise Above.
The session kicked off with Sebastion Schrof, who had our crowd in awe by flying two beautiful robotic butterflies overhead. Sebastian talked about why tech needs to merge with nature, highlighting some of the benefits of doing so. Next was Johannes Tovatt, an architect and urban planner based in Sweden. Johannes gave our audience insight into how he has gone about building a city within a city, and how it's important to always consider the well-being of the people who live there.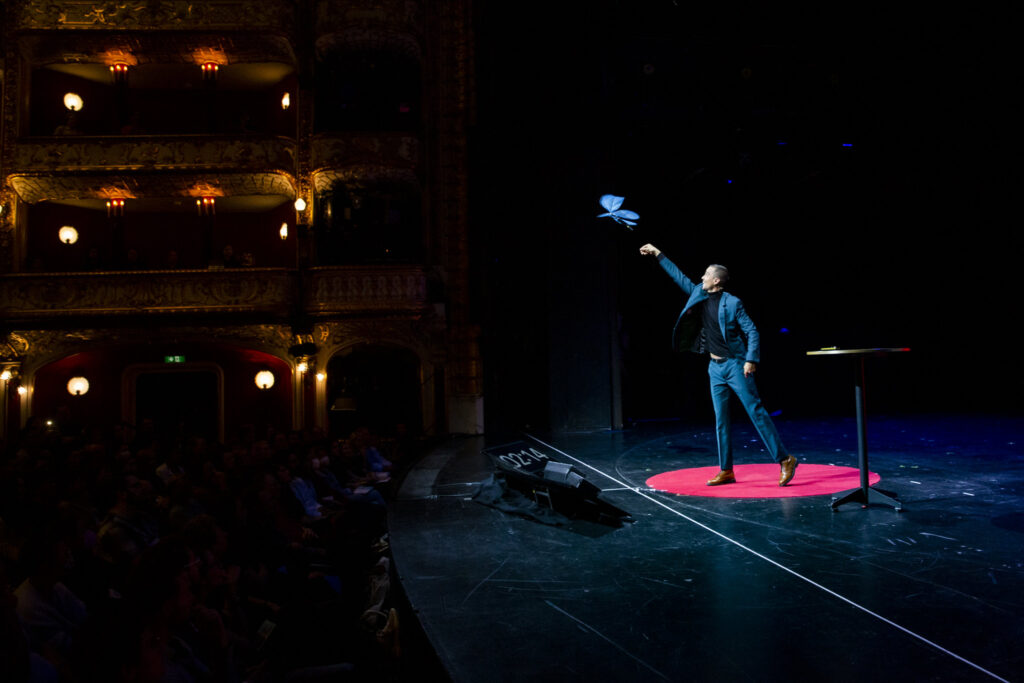 Before wrapping up the conference with our last two speakers, audience members were stunned by a mesmerizing performance from Aerial silk.
Our last two speakers' topics couldn't be any more different from one another. First, we had Mennatallah El-Assady, who works at the intersection of data analysis, visualization, computational linguistics, and explainable artificial intelligence. Menatallah spoke all about Intelligence Augmentation and how to empower humans and join them with AI agents in co-adaptive processes. A fascinating idea that left the audience in deep thought before the next speaker's entrance.
Last but not least, the day would come to an end on the topic of, sex. That's right, Jenny Simanowitz talked about the importance of sex as a senior. After losing her husband during Covid, Jenny decided to get onto Tinder and be sexually active despite her age. Her stories of sexual adventures had our audience members in bouts of positive laughter, ending the night on a provocatively fun note.
And just like that, another successful TEDxVienna event was in the books. Hundreds of people learned about intriguing new on the rise ideas, all while experiencing cool interactives, networking and socializing with a diverse range of people, and feeling intellectually fulfilled and more motivated than ever.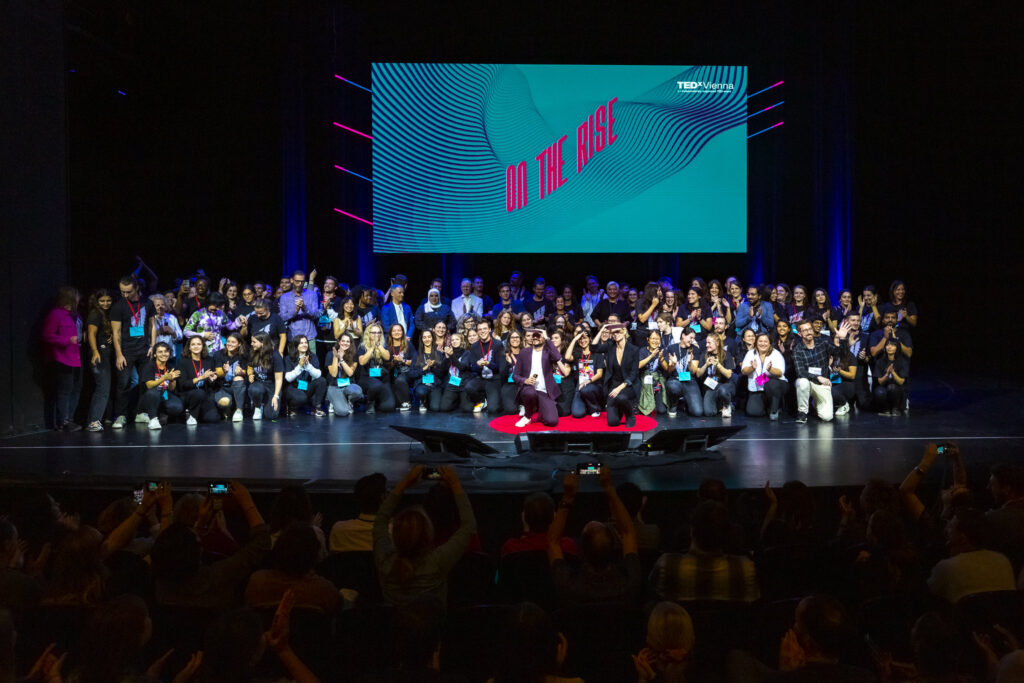 But it wasn't over just yet, because what would a TEDxVienna event be without an epic after-party? Members were all invited to our after-party at Selleny's bar at the Hilton hotel. Allowing attendees the opportunity to continue to spread ideas, hang out with speakers, and meet TEDxVienna volunteers. It also gave us all the chance to unwind and raise our glasses to a day filled with impactful ideas that we were all sure never to forget.
Attendees went home with an On the Rise goodie bag filled with all kinds of neat stuff. Goodies included a waterdrop water bottle and microdrink, sustainable glass cleaning powder from the aer, a book on innovation by WKO, a cleanser from Ina Essentials, hair and body soap from ERUi, drinks, magazines, stickers, discount codes, and more!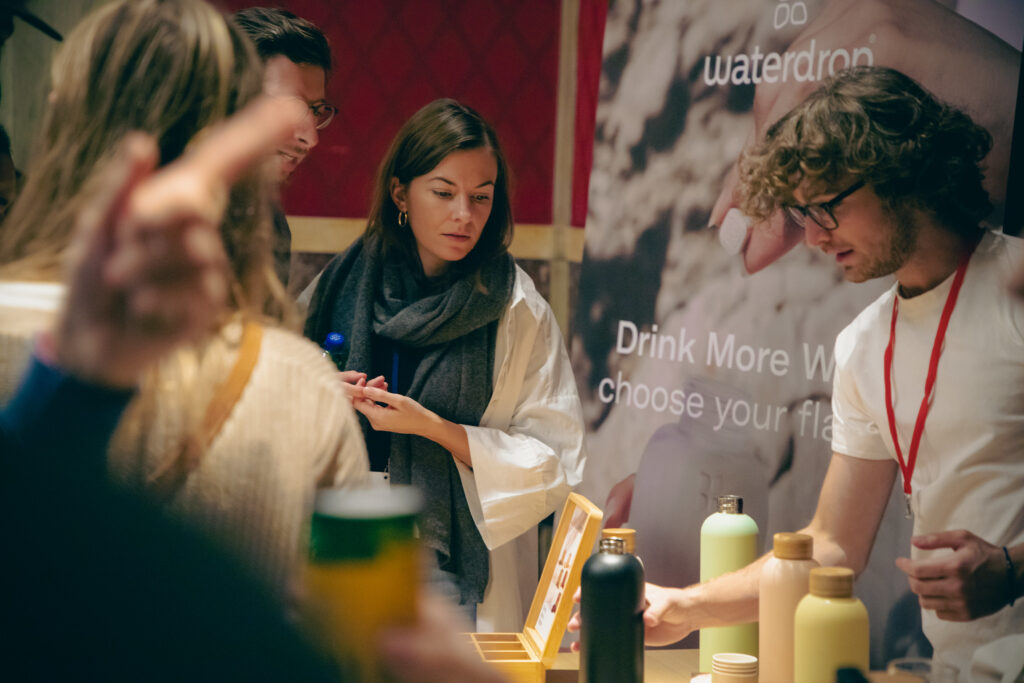 If you are eager to learn more about the sixteen inspiring ideas that took the stage, stay tuned for the rest of our post-event interviews, to be published here in the TEDxVienna Online Magazine soon.
We look forward to seeing you at our next event!
Photos by Cherie Hansson, Gabriel Bangura, and Nikita Russ.