The UN proclaimed the 3rd of May as International World Press Freedom Day. This day should be a reminder of how important access to information and the free press is. With modern technologies like the internet and an overflow of information, we may sometimes forget that independent journalists play a crucial role in every society.
One may not realize it, but as the UN state, publications and social media are censored, fined, and suspended, while journalists, editors and publishers are being harassed, attacked and even killed worldwide. And Reporters Without Borders proves this: Already in 2021 alone, 8 journalists and 4 media assistants were killed, while 322 journalists, 101 citizen journalists, and 13 media assistants were imprisoned.
Journalism influences many aspects of our lives, including our health, our human rights, democracies and sustainable development. That being said, free press is a public good that should be accessible for everyone.
However, not every journalist strives to make an input into quality journalism, so there are still plenty of poorly made pieces of information, biased articles, and fake news. That's why the consumers of media products should also take responsibility for what they watch, listen to, and read. The reason is simple: demand creates its own supply. Putting it in other words: the more that people consume content of low quality, the more such content will be produced. The way to consume information responsibly is to be media literate.
What is media literacy?
"Media literacy is concerned with developing an informed and critical understanding of the nature of the mass media, the techniques used by them, and the impact of these techniques."

Barry Duncan, co-founder of the Association for Media Literacy (Ontario)
Media literacy is a set of skills, consisting of:
These skills are needed for being able to differentiate between high- and low-quality media content.
How to become media literate?
Look for news from trustworthy sources. For instance, if an online paper produces a dozen articles per hour, the odds are that their quality will not be outstanding.
Consume information thoughtfully: take your time to read something through, not just the title and the excerpt of an article. Ask yourself: what is the message of this information? What is its purpose? Why was it produced now? Was there a commercial purpose? Were some details left out or manipulated?
Look at the title of an article: does it look like a click-bait that provides little useful information?
Re-check the information: if something looks doubtful or you hear some news from a friend, try looking for this information yourself.
Look for the proof: are there any links, quotes or sources provided? It is always better to check out the original source.
Examine the media: who owns it? Is it independent from the state? What is its rating? Who may profit from its content?
Pay attention to the language: is there a lot of emotionally colored speech or over-complicated phrases?
Look at what others say about the piece of information, for example in social media comments.
Stay critical: draw your own conclusions and do not be afraid to speak your mind, as it may help other people.
Nonetheless, It is also important to be critical while using social media. When looking for others' opinions, look out for bots, programs that mimic humans to engage in social media with other users. They are mostly used to manipulate the opinion of people.
So, look out for profiles that:
Don't speak naturally, answer oddly and very quickly
Leave a lot of comments with similar or identical ideas
Mention products, companies or politicians, or send random links out of the blue
Have a nearly empty profile with almost no information
Consist of posts or reposts on the same topic
Do not hesitate to state in the comments section and/or report this user if you find a bot. The same rule applies when you see what you think is fake news.
It sounds like a lot of work, but checking the information will not take more than two minutes of your time. After all, it is better to consume one piece of high-quality information than a dozen poorly made ones.
Why is it important?
The main point of being media literate is to protect yourself from false information and not to pass it on to others.
For this reason, it is good to take all the points above into consideration before sharing any news with others in order to avoid spreading misinformation.
Disinformation is dangerous for society. There are numerous examples of manipulating people before elections. Right now, there is a lot of speculation surrounding COVID-19 and plenty of false messages circulating about the vaccines.
Unfortunately, some messages come from users who often spread misleading information which may be harmful. One example would be the terror attack that took place in Vienna in November 2020, where false claims about the attacker and victims spread rampantly across social media. These claims caused confusion and trauma and even complicated the work of police officers. It is worth mentioning that at that time, even the chief editor of a quality weekly newspaper "Fatler", Florian Klenk, made a similar mistake: he spread the news that there is a second attack at Mariahilfer Straße on his personal Twitter account. In the end he apologized, but since the Twitter account of Klenk was known to be a reliable source, many people believed him and reposted the false message and other media shared the news as well.
This shows how simple consumers of media content are also responsible for creating and spreading misleading information.
Independent journalism is a cornerstone of democracy that should help its citizens and provide them with high-quality well researched information. Such content should be praised and shared with others. To do so, a citizen should be competent to identify qualitative content as such. This can increase the overall quality of journalism.
The slogan of the campaign on World Press Freedom Day by the Delegation of the EU in Ukraine says: "The media help us protect each other." However, it is our duty to support the free media in helping us.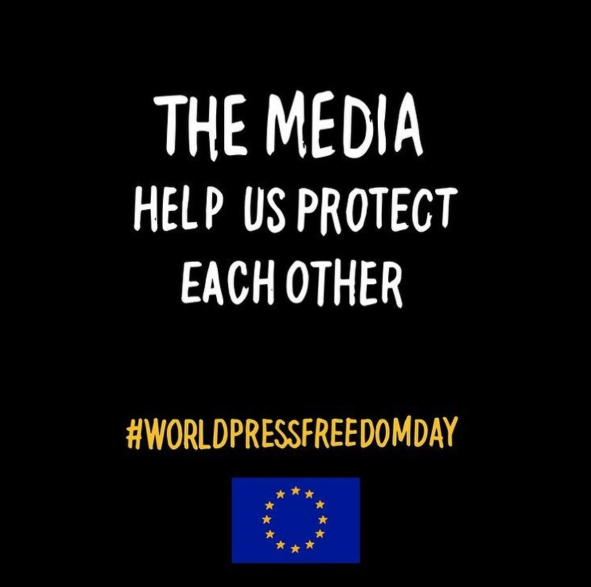 Featured Image: Joël de Vriend via Unsplash