Come and get a taste of the new Ukrainian music which will get you in the mood for dancing.
Ukrainians are thought to be a very sonorous nation because Ukrainian language is full of vowels. That's why there are plenty of folk-songs, and you most probably will not find any Ukrainian who does not know any of those.
However, for a long time, folk songs were not popular. They were considered to be something for the elderly, and nobody could associate those old motives with something trendy.
Nevertheless, a new school of Ukrainian musicians has breathed life into the old music and transformed it into something modern. Since 2014, despite all the dramatic events happening in Ukraine, the Ukrainian music industry has been experiencing a revival. A lot of new musicians have appeared, and they have managed not only to be popular in their home country but also in Europe. There are a few singers who take ancient motives and remake them with a new sound, turning them into a new form of Ukrainian folk.
The first popular folk
Actually, the phenomenon of Ukrainian folk music gaining popularity in other parts of the world is nothing new. Perhaps, one of the best known examples is "Carol of the Bells", a beloved Christmas song for many that gained even more popularity with the movie 'Home Alone'.
In Ukrainian it is called Shchedryk, which means a bountiful evening. This Christmas carol is a ritual song that Ukrainians have been singing in winter for centuries as they go from house to house and wishing their owners a bountiful next year.
At the beginning of the 20th century, it was arranged into a carol called "The Little Swallow" by the Ukrainian composer Mykola Leontovych. A few years later, Peter J. Wilhousky, an American composer of Ukrainian descent, published the new lyrics of the song and adapted it into an English Christmas carol, making "Shchedryk" a song known worldwide.
Since then, the Carol of the Bells has been remade countless times. One of the interpretations worth mentioning is the Shchedryk song by the Vopli Vidoplyasova band. While listening to the original lyrics of the Christmas carol, you will see a claymation-animated film about the problems in modern society connected with the centuries-old Ukrainian traditions of Christmas celebration. When enjoying the music performed by Le Grand Orchestra, your mind might wander off to your childhood memories, as I, as a Ukranian, can't help having flashbacks of those Christmas days back at home, filled with warmth.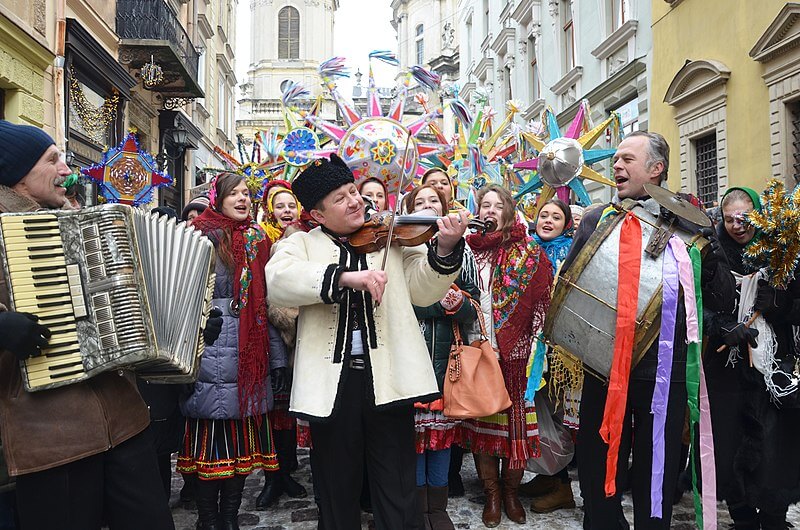 The author of this remake is actually one of the pioneers in terms of turning Ukrainian old folk music into something modern. Therefore, Oleh Skrypka, the lead singer of Voply Vidoplyasova, went even further: he mixed Ukrainian folk with French flair. After spending 5 years in France, the group returned to Kyiv in Ukraine. They started to incorporate the French sounds into their music there. The mixture seems to be quite a hit, as the songs with the Ukrainian traditional wind-instrument sopilka and french harmonica, associated with Paris, are still popular 20 years later.
Mixing past and the present
When it comes to interesting mixtures and sounds, there are three Ukrainian groups, who have pretty much mastered this technique: DakhaBrakha, ONUKA, and KAZKA.
All of them use national and ancient instruments as trembita, a kind of alpine horn, which can be 8 meters long, or bandura, a plucked string folk instrument with 68 strings. They put a lot of effort into making their music sound authentic, ordering the ethnical instruments from the local masters, who have preserved the secrets of their making through generations. Even though these bands dedicate a lot of attention to the traditions, they make their music sound modern and interesting.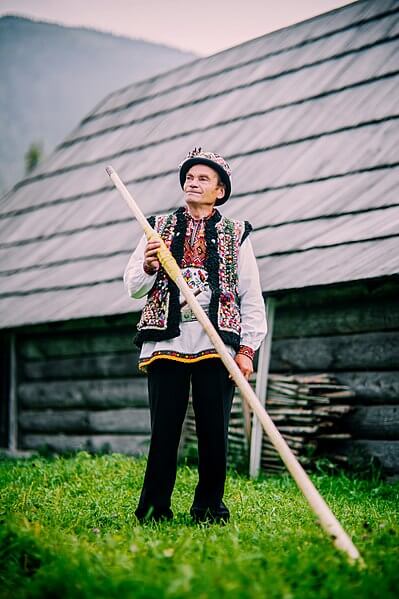 DakhaBrakha's members refer to themselves as an ethno-chaos and combine styles of several ethnic groups in their music. They say that they "want to raise Ukrainians' self-identification and self-esteem" with their songs. DakhaBrakha is quite renowned in Europe, and is often invited to different festivals. They admit that while having a lot of concerts in different parts of the world, the most touching thing is to see a Ukrainian abroad who says: "I know them, they're from my country", and understand that they tug some heartstrings with their work.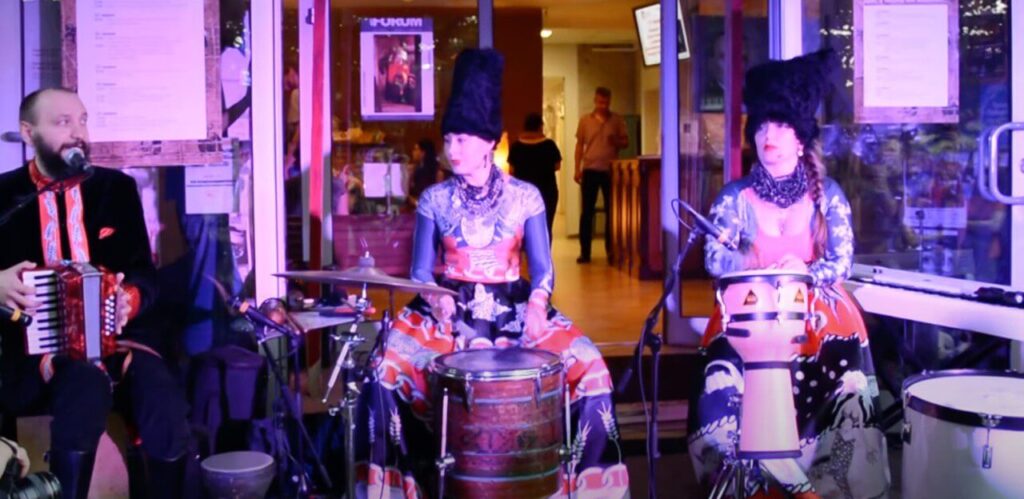 ONUKA, Ukrainian for granddaughter, is an electro-folk band. The distinct feature of this band is using national folk motives and instruments in electronic adaptation. ONUKA's lead-singer, Nata Zhyzhchenko, also carries a specific idea with her songs. Her grandfather is a renowned folk-instrument maker, which explains the name of the band. He has passed on the importance of traditions to her granddaughter. Nata thinks of the instruments as authentic creatures, and it is important for her that each instrument sounds distinctive.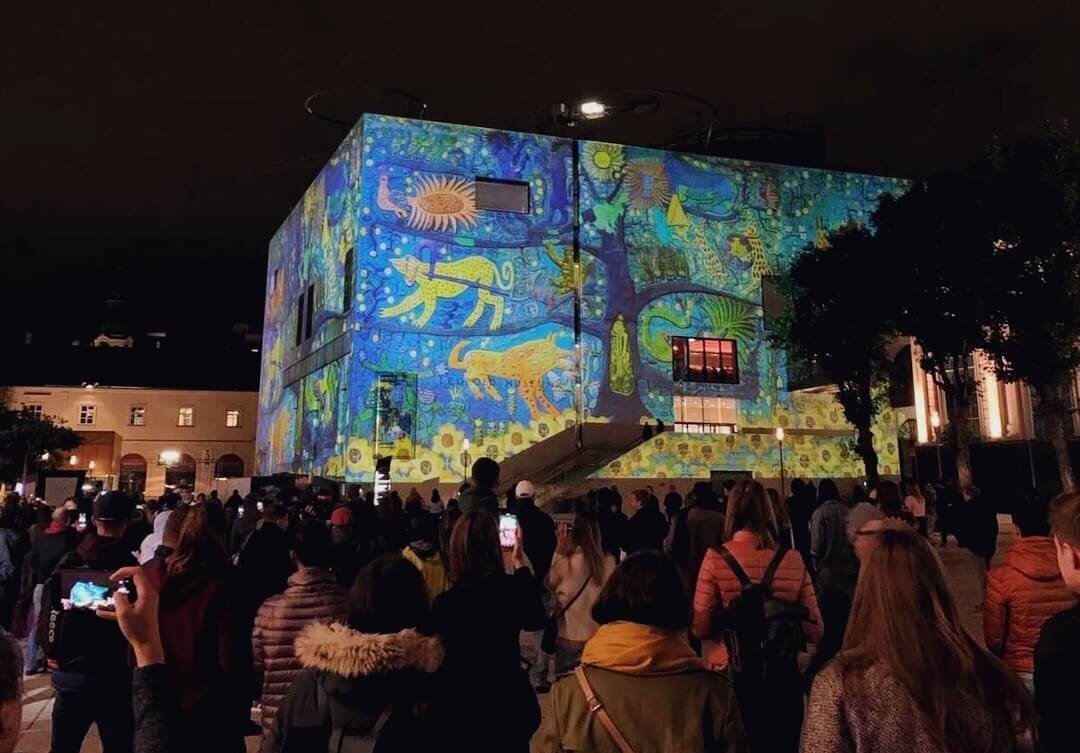 In 2019, ONUKA had a free concert in Vienna Museumsquartier, as part of the year of Ukrainian culture in Austria. In the interview for KURIER, Nata admitted that during her concert in Vienna, she was singing against the occupation of Ukraine:
"In our lyrics, there are no direct political comments. It's about our inner feelings about the current situation in Ukraine. And about the hope that one day we will no longer have the war, will be left alone, and will be able to take care of our own fate."

KAZKA band, Ukrainian for fairytale, also incorporates folk motives in their music, but in the pop style. It can be called an experimental pop group. Their song "Plakala" (Cry) has become the third in the Top 10 Global Shazam chart and has a record number of views on YouTube. Right now, the music video has more than 350 million views (but I must admit, at least 50 of those views are mine).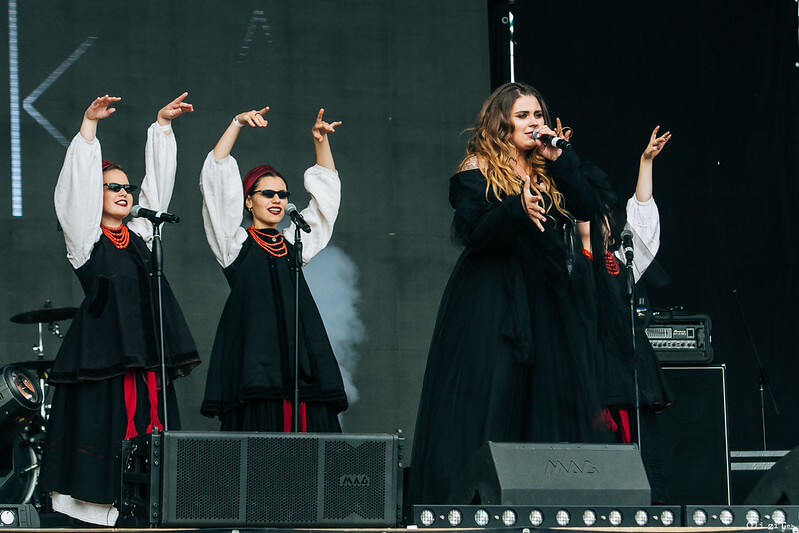 The new Ukrainian folk music is also about rap, hip hop, and other music genres. Some new artists, like Kalush, Yuko, Alina Pash, or Alyona Alyona successfully combine the fast recitative with the traditional Ukraine melodica. The last one is also quite popular in Europe and had a couple of concerts in Vienna.
The most interesting thing is: you will understand their songs even if you do not speak Ukrainian, because of the emotions and the feelings you get while listening to the songs.
Listen to your soul
Another Ukrainian singer who contributes to the new Ukrainian folk, Maryna Krut, was performing at the TEDxKyiv Women event. She played some pieces on bandura from her new album, and gave a talk as well.
Her talk implicitly explains the phenomenon of the popularity of the new Ukrainian music: it is sincere, honest, and is about feelings and emotions, just like Krut's music is. "All of it would not have happened if it was not about honesty. Honesty has helped me to open up my soul, which I listen to every moment of my life now" – says Krut.
The new Ukrainian folk music is unique and authentic, it resonates with inner feelings. This music is more than just melody and words: it is an experiment, bravery, a message, a self-identification, and a combination of the present and the past.
This new interpretation of folk music is unique, just as people are: "Every single one of you has something unique and peculiar, something that others do not have – it is your soul. Listen to it more often." – sums up TEDxKyiv Women speaker Maryna Krut.
And while doing so, give five minutes of your time to get acquainted with the historical development of Ukrainian folk. Just listen to this potpourri of Ukrainian folk songs, sung by Maryna Krut, and enjoy.
Photo credits:
A Ukrainian with a trembita. Photo: © Mikhail Kapychka via WikiCommons
Street musician playing bandura. Photo: © Olena Levitina (private)
Onuka playing sopilka. Photo: © Andriy Makukha via flickr
Christmas caroling in Lviv, Ukraine. Photo: © Alina Vozna via WikiCommons
Musicians playing the instruments widespread in Ukrainian folk music. Photo: © Mikhail Kapychka via WikiCommons
DakhaBrakha on a concert in Kyiv, Ukraine. Photo: ©Kostiantyn Humennyi (private)
Onuka's concert in Vienna Museumsquartier. Photo: © Anton Klyshnia (private)
KAZKA during the "Believe" festival in Kyiv, Ukraine. Photo: © Oli Zitch via flickr
Featured image: © Marjan Blan via Unsplash